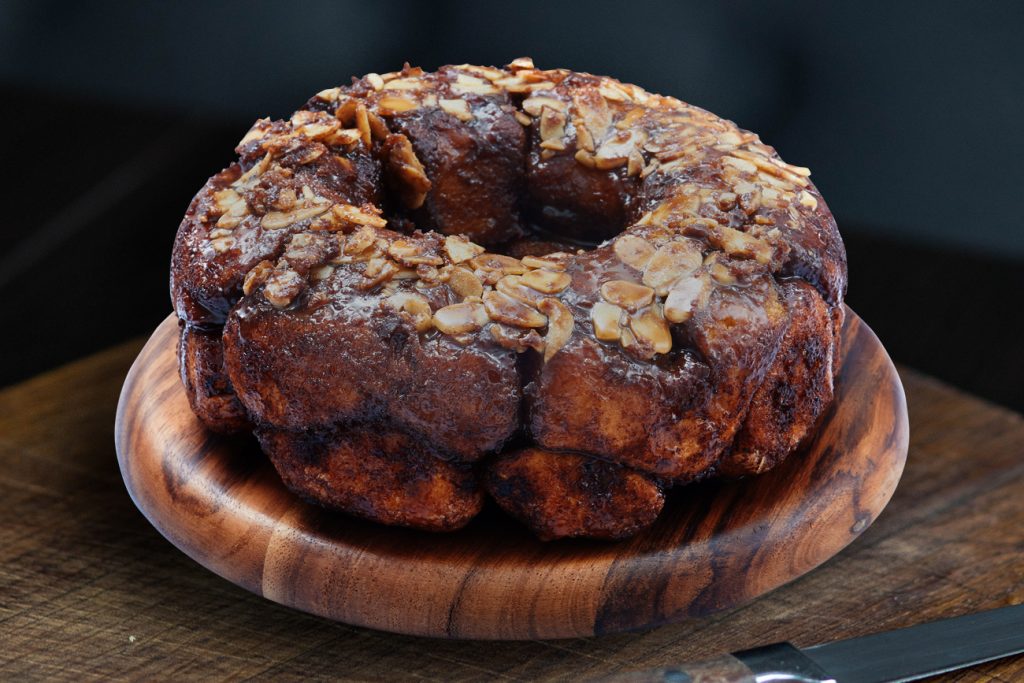 Ingredients
Monkey Bread
Mauri Donut Mix
1000g
Mauripan Instant Dry Yeast
15g
Pinnacle Margarine
50g
Cold Water
480g
Almond Flakes
150g
Castor Sugar
500g
Cocoa Powder
30g
Ground Cinnamon
25g
Melted Unsalted Butter
350g
Salted Caramel Sauce
Water
120g
Sugar
400g
Dairy Cream
32g
Unsalted Butter
90g
Salt
16g
Baking Step:
Monkey Bread
Prepare three 6 inch fluted tube pan and generously grease it. Sprinkle 50g of almond flakes in bottom of pan. Combine sugar, cocoa powder, ground cinnamon and set aside.
Thoroughly mix together Mauri Donut Mix and Mauripan Instant Dry Yeast. Add in cold water and Pinnacle Margarine. Knead until dough is well developed. (Final dough temperature should be around 25-28°C).
Cover dough with plastic and allow to rest for 10 minutes. Weigh and cut dough to desired size. Let rest for another 10 minutes. Dip each dough into melted butter and roll it in sugar mixture. Place coated doughs in the prepared pan.
P4. Proof at 38°C, 85% humidity for 30 – 40 minutes. Bake at 175°C for 30 – 40 minutes. Cool the monkey bread for 5 minutes in the pan, before inverting the pan onto a platter and remove the pan. Finally drizzle with the salted caramel sauce and serve.
Salted Caramel Sauce
Put water and sugar in a pot. Bring it to a boil and cooked until caramel colour. Turn off the heat and slowly add in cream, butter and salt.
Leave aside to cool before use.